Area Pet Shelters
By adopting a homeless pet from a shelter in Flint or surrounding areas, you will help make space for more animals in the greatest need in our shelters. More importantly, you will give new life and a forever home to an animal that needs your love and caring. They so love to be loved!
Spirit came to visit us this week! He is an energetic sweet 4-year-old that loves to meet new people. He's good with kids and most dogs! Spirit is fully up to date on shots and is ready for a forever home!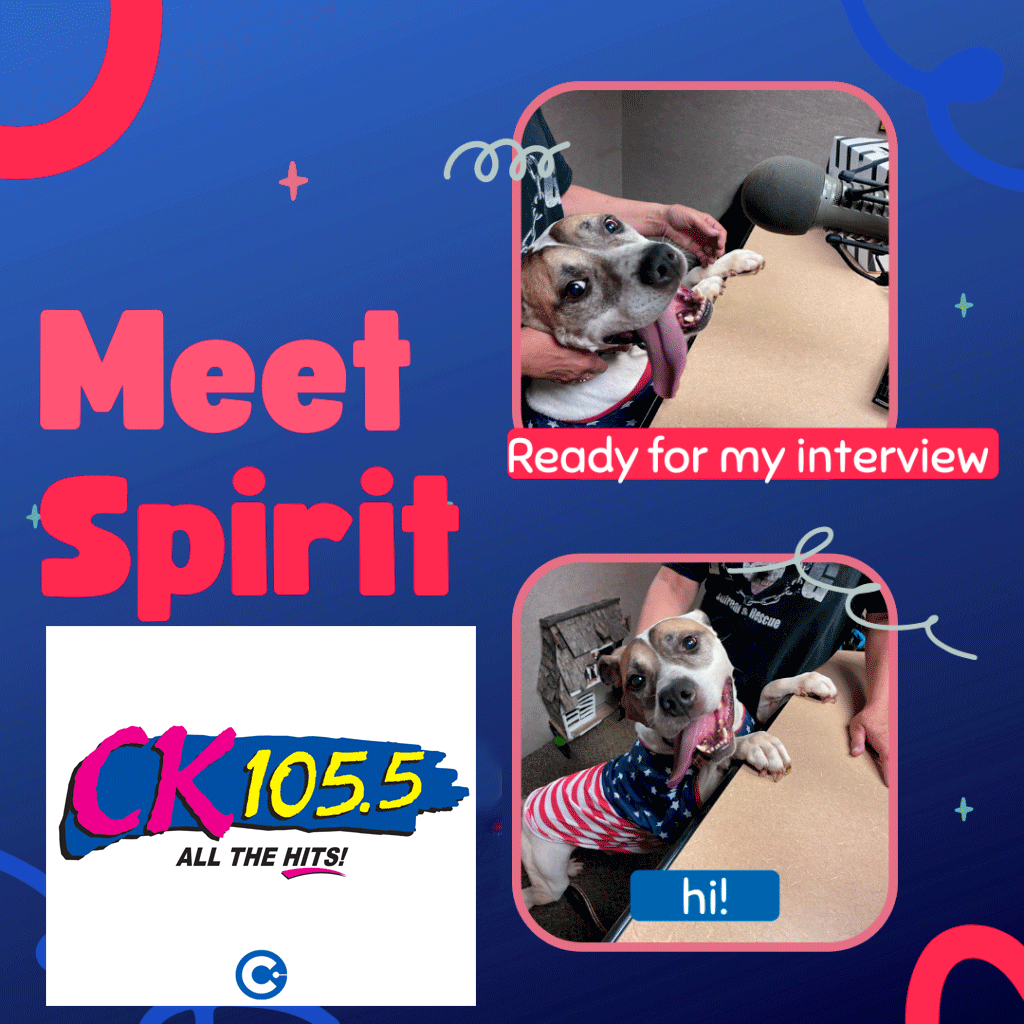 Spirit is available from the Greater Flint Dog Outreach & Rescue. You can meet him at PetSmart in Grand Blanc this Saturday from 1:00 pm to 4:00 pm. Click here for more information about the Greater Flint Dog Outreach & Rescue.
If your organization would like to feature available animals for adoption please email [email protected].
Below are other groups in our area that work to shelter and save animals in our community!
——————————————————————————————————————-
We house stray dogs/cats, accept owner surrenders, and have dogs/cats available for adoption. If you are missing a dog/cat, we urge you to come and search through our stray ward. We keep animals on a 7-day stray hold before they are evaluated, spayed/neutered, and offered for adoption to the public. All animals receive vaccination booster shots, are dewormed, and receive a flea treatment intake.
—————————————————————————————————————-
The Life of Fostering Furbabies Animal Rescue | Burton, MI 48509
We are a foster-based only rescue group, which means we do not have a facility – all of our cats are being loved and cared for in people's homes in Genesee County, Michigan.
——————————————————————————————————————–
House of Hope Rescue, Inc came to be when a group of animal lovers and people that have fostered for different rescues, came together. We all have the same goals for the animals that we rescue. We are currently foster-based but we have bigger hopes so that we can help more animals in need so we are striving towards having a kennel.
——————————————————————————————————————-
Flint City Pits is a foster-based dog rescue that exists to rescue, rehabilitate, and rehome some of the most vulnerable animals in Genesee County. While not restricted strictly to pit bull and bully breed rescue, they are the focal point as they make up the largest demographic of at-risk dogs in the area. We strive to work in partnership with local trainers, a network of volunteers, and other rescues.
——————————————————————————————————————-
Kirby's Friends Animal Rescue was founded in memory of my dog Kirby, whose picture appears at the top of this page, who lost a valiant fight against osteosarcoma. She was my best friend and I still miss her greatly. She was a shelter dog, adopted from the Humane Society as a pup. I've been rescuing dogs for almost two decades, from high kill pounds, and abusive homes.
——————————————————————————————————————-
Kreacher Konnections is a foster-based no-kill rescue that is dedicated to educating the public about the importance of spaying and neutering. We offer free humane education classes to groups throughout the community to make connections between people and pets, educate the citizens about the homeless and feral pet population in the area, and encourage spaying and neutering of all animals.
——————————————————————————————————————-
Pets In Peril is a volunteer-based organization that provides assistance to pets and pet owners that live within the City of Flint. Our program is 100% donation based. Our goal is to educate owners on pet care, the importance of spaying/neutering their pets, to show the importance of the pets in their lives, and sometimes even referral to human services for people's needs. PIP volunteers provide food,
——————————————————————————————————————-
Pomeranian Club of Michigan Rescue is dedicated to helping dogs in distress in the state of Michigan. We take dogs that would otherwise have trouble finding homes and rehabilitate them as best we can. We have experienced fosters that are patient and loving and we do our best to find the best home possible for each individual dog.
——————————————————————————————————————-
Grand Blanc MI.
​​Saving animals that are injured, orphaned, and have severe medical issues is our passion. Lucky Day provides a safe haven with abundant love, medical care, & rehabilitation until their forever homes are found! We are a no-kill rescue meaning there is no time limit for our animals. If a home is never found for an animal they are more than welcome to life out their lives.
——————————————————————————————————————-
Davison MI
Los Gatos Foster Animals is a volunteer, no-kill foster organization funded 100% by donations and located in Genesee County, Michigan. There are no paid staff or board members; we rely solely upon volunteers, giving of their time, love, and homes to house the animals we care for until they find their "forever homes". The fur babies do not leave our care until they are healthy.
——————————————————————————————————————-
Davison MI
Divine Canine Rescue, a nonprofit is a vision brought to life by a group of family members devoted to the wellbeing of all animals. Most of the members grew up in a home that seemed to be a dumping ground for many unwanted pets that were always welcomed with open arms! They were given food, shelter, vet care, and most of all LOVE! Our goal is to help save the lives of unwanted dogs.
——————————————————————————————————————-
Swartz Creek MI
PAWS Animal Rescue is a non-profit organization that is passionately dedicated to saving abused, neglected and abandoned animals. PAWS Guiding Values are: To prevent animals from going to kill shelters, research facilities, and animal control. To increase adoptions of unwanted animals to a loving forever home. To educate the public regarding the value of the animals in their lives. To increase public
——————————————————————————————————————-
Fenton MI
Adopt-A-Pet, is committed to helping people and animals in need. We hold ourselves to a high standard – one which looks out for the physical AND mental well-being of our animals. Our mission is to provide a means to place unwanted, adoptable animals into appropriate, loving homes. We are committed to reducing the number of animals killed daily in overcrowded shelters by providing programs to help.
——————————————————————————————————————-
Fenton MI
Rescue One is comprised of volunteers donating their time and love. We do not receive any money from city, county, state, or federal governments. The volunteers are not paid except with pupster kisses and adoration. We rescue dogs from local animal shelters, animal control facilities, and private owners. All are fostered in our homes until they find their Forever Home. All vetting needs are addressed
——————————————————————————————————————-
Heaven's Half Acre Rescue and Sanctuary
Fenton MI
We are a small, volunteer-based non-profit animal rescue & sanctuary. Along with providing safe, forever homes for abused and neglected animals, our goals are to promote education, responsible pet ownership, including spaying & neutering, and shelter adoption, with an additional focus on wildlife rehabilitation and coexistence with nature!
——————————————————————————————————————-
German Shorthaired Pointer Rescue of Michigan
Montrose MI
The German Shorthaired Pointer Rescue of Michigan has placed many dogs into wonderful homes. We have been involved with Shorthaired Pointer Rescue for 30 years. We are dedicated in helping those German Shorthaired Pointers in need of a second chance, in Michigan and other surrounding states.
——————————————————————————————————————-